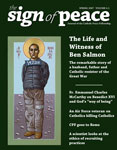 The Life and Witness of Ben Salmon
by the Staff of the Catholic Peace Fellowship

Two Letters
On April 6, 1917, President Wilson declared war on Germany and the Central Powers. On the following day, the presidential war declaration was ratified by Congress, so bringing the nation into the First World War, or, as it was called at the time, the Great War.
On April 18, 1917, James Cardinal Gibbons, Archbishop of Baltimore and de facto head of the Catholic Church in the United States, sent a letter to President Wilson declaring that Catholics would support the war effort (see page 17). "Moved to the very depths of our hearts," he wrote, "by the stirring appeal of the President of the United States and by the action of our national Congress, we accept wholeheartedly and unreservedly the decree of that legislative authority proclaiming this country to be in a state of war." "We stand ready," Gibbons assured Wilson, "we and all the flock committed to our keeping, to cooperate in every way possible with our President and our national government, to the end that the great and holy cause of liberty may triumph, and that our beloved country may emerge from this hour of test stronger and nobler than ever. Our people, as ever, will rise as one man to serve the nation."
On June 5, 1917, Ben Salmon, a Catholic layman, a husband, and a father of three children, also sent a letter to President Wilson; but Salmon was stating his refusal to submit to conscription. "Regardless of nationality," he wrote, "all men are my brothers. God is 'our father who art in heaven.' The commandment 'Thou shalt not kill' is unconditional and inexorable." "Both by precept and example," Salmon explained to Wilson, "the lowly Nazarene taught us the doctrine of non-resistance, and so convinced was He of the soundness of that doctrine that he sealed His belief with death on the cross. . . . This letter is not written in a contumelious spirit. But, when human law conflicts with Divine law, my duty is clear. Conscience, my infallible guide, impels me to tell you that prison, death, or both, are infinitely preferable to joining any branch of the Army."
Here we have two different letters, written by two different Catholics, stating two different stances toward the nation's entry into the Great War, leading to two different stories of faith and action, service and sacrifice, life and death.

Two Stories
The story that began with Cardinal Gibbons' letter to President Wilson continued in the months to follow with the founding of the National Catholic War Council. The purpose of the War Council was to mobilize the Catholic population to perform "war work," as it was called at the time. The tasks taken up by the National Catholic War Council included recruiting priests for the military chaplaincy, establishing war councils on the diocesan and parish levels, founding Catholic chapters of the Boy Scouts of America, raising money for the war effort, tending to the graves of fallen soldiers overseas, sending social workers overseas for post-war "relief work," and amassing a comprehensive documentary record of Catholic war and relief work for posterity (which can still be found in a basement room in Mullen Library at the Catholic University of America). Eventually, after a series of transformations, the War Council became the National Conference of Catholic Bishops and the United States Catholic Conference, the predecessor organizations to the United States Conference of Catholic Bishops which now operates in Washington, D.C. For this reason, the story of the founding and work of the War Council is often told as a prelude to the rise of progressive Catholicism in the United States, indeed, as a turning point in U.S. Catholic history, when the Church made a crucial step toward entering into the mainstream of the nation.
But rather than tell the story of Gibbons and the War Council, which has been told by many historians of U.S. Catholicism, in the following pages we tell the little-known story of Ben Salmon. In doing so, we rely heavily on the biography written by Torin Finney, aptly entitled Unsung Hero of the Great War: The Life and Witness of Ben Salmon (Paulist Press, 1989) [see box]. And we do so for some of the same reasons that Finney wrote his excellent biography: as he writes in the epilogue, to tell a story that "challenges us to take a closer look at our own willingness—or unwillingness—to obey the call of God in our lives." In other words, our purpose in re-telling the story of Ben Salmon is not only to provide information about an exceptional life in the past, but also to provide inspiration and encouragement in the present, so that Catholics and others of this day and age may be inspired and encouraged to follow Salmon's lead by resisting, out of loyalty to God and conscience, the nation at war.

Early Life
First, some facts about his early life. Benjamin Joseph Salmon was born in Denver, Colorado in 1889. He was the third of four children, with an older sister, Mary, an older brother, Jack, and a younger brother, Joe. His parents were Irish-Canadian immigrants, both Catholic. It was his mother, Catherine, who took him to Mass every Sunday at Holy Family Roman Catholic Church, enrolled him in Catholic schools, and provided him with an example of faithfulness that influenced him in his youth. His first exposure to the military was during the Spanish American War, when he and his brother nursed a wounded veteran who was housed in the Salmon home. Like most boys, he reveled in the war stories he heard, but his mother was known to have a dim view of military life which may have affected him. In any case, in his early teens, Salmon (and this is taken from his own written recollection) "began to wonder how the Catholic Church reconciled war with the command, 'Thou shalt not kill.'"
In 1907, after attending night school for a few years, Salmon took a full-time job as an office clerk with the Colorado and Southern Railroad. It was during these years that he was gradually transformed into a labor "agitator" (his word). Colorado had been the site of bitter labor struggles connected with the formation of the Western Federation of Miners in 1892. The state militia was frequently dispatched to break the strikes. Strikers, strike-breakers, and lawmen alike were killed. The most notorious clashes occurred in Telluride, Colorado in 1901, and Cripple Creek, Colorado in 1904, not long before Salmon first went to work. Moreover, at this time the country was being swept by the single-tax movement, as conceived by Henry George in his widely popular and revolutionary book Progress and Poverty (1879). Starting with the premise that land is the true source of all wealth and productivity, George and his followers held that the cure for economic injustice lay in eliminating all taxes except land tax. The details of single-tax theory (which, in the age of cyber-space, seems quaint at best) are not important for our purposes. What is important is that Salmon was deeply involved in the single-tax movement, and he embraced the radical economic vision of its leadership and also, coupled with this, a sharply critical view of the state which, as he saw it, exercised its authority in order to enforce the economic injustices of the status quo. His view was gruesomely confirmed on Easter Night in 1914, when striking coal miners were attacked by the National Guard in Ludlow, Colorado, leaving a dozen miners dead, plus thirteen of their children and one pregnant woman. The Ludlow Massacre, as it was called, left Salmon outraged. In 1915, he stepped up his activism for the union, which cost him his job, and for the single-tax, which led him to run for the Colorado State legislature (he lost). Both efforts he saw as part of the struggle for justice. But these were but a prelude to the struggle to come.
The Great War in America
Many Americans voted for Woodrow Wilson in 1916 because they regarded him as the one presidential candidate who would keep the United States out of the war. Therefore, many Americans were shocked when Wilson declared war a few months after his election. Yet despite the formidable opposition, on May 18, 1917, the Selective Service law was put into effect, requiring all able-bodied men between the ages of twenty-one and thirty-one to register at local induction centers within thirty days. An impressive array of liberal and radical leftist groups rose quickly to oppose the draft and the war, but these groups were quickly and effectively silenced. For one thing, the president's description of the war as an effort "to make the world safe for democracy" generated quick and widespread support. For another, the Wilson administration formed the Committee for Public Information (CPI) in order to manipulate the press and generate popular support for the war. (Soon after the war, the head of the CPI, George Creel, recounted his agency's work in a book entitled How We Advertised America). And then, on June 15, Congress passed the Espionage Act, which imposed a fine of $10,000 and/or twenty years in prison on anyone engaging in activities "detrimental to the war effort," such as making public statements against the war, distributing anti-war literature, or promoting draft resistance. Hundreds were arrested. Thousands were monitored and harassed. A number of anti-war newspapers were censored (including The Masses, a monthly magazine which employed a young journalist by the name of Dorothy Day). In 1918, the legality of these measures was upheld by the Supreme Court, which found that freedom of speech may be curbed when, in the memorable phrase of Justice Oliver Wendell Holmes, it poses a "clear and present danger" to national security.
Salmon Takes His Stand
Salmon was one of those who voted for Wilson to keep the nation out of the war. And he was one of those bitterly disappointed by the president's declaration of war, by his "change of colors," as Salmon put it. So it is not surprising that when Salmon registered for the draft on June 5, 1917 (complying with the deadline set a few weeks before), he wrote the president a letter of protest that same day. Not long after, he stepped out of his leadership role in the single-tax movement and took on a new role as secretary of the Denver branch of the People's Council of America for Democracy and Peace, a national anti-war organization led by leftist activists and intellectuals. He wrote more letters to President Wilson, gave speeches from soap-boxes, and distributed anti-war pamphlets, including one entitled "Ours Is the Land of Tyranny and Injustice," which was censored by the Postmaster General in the fall of 1917. That same fall, he married Elizabeth Smith, whom he had met nine years before while working for the railroad, but a conventional married life was not in store for the newlyweds. Salmon was acquiring a reputation as a radical activist, not only around Denver, but nationally too. On November 6, 1917, The New York Times described him as a "spy suspect," probably on the basis of his letters to Wilson which the Postmaster had forwarded to the papers. Then, on Christmas Day, he received the Army Questionnaire asking for information needed to process his draft registration. He returned it to his local Draft Board the next day with a letter stating his refusal to fill out the form. His letter concluded: "Let those that believe in wholesale violation of the commandment 'Thou shalt not kill' make a profession of faith by joining the army of war. I am in the army of Peace, and in this army I intend to live and die."
Arrest, Trial, Conviction
On January 5, 1918, two Denver policemen came to Salmon's home to arrest him. Members of the local Draft Board, some of whom knew of him and his beliefs, told him it was in his best interest to complete the Army Questionnaire. Salmon refused. He was arrested and released on $2500 bond, pending trial. The next day, Salmon distributed a tract he wrote entitled "Killing the Wrong Men." The gist of the article was captured in the title. "If killing has to be insisted upon," he contended, "those responsible for wars—kings, presidents, Kaisers, etc.,—should be made to fight each other and not drag millions of innocent youths into a game where they would be compelled to slaughter each other."
The letter earned him expulsion from the Knights of Columbus chapter of his parish. The episode was reported in a newspaper article describing him as a "slacker," the standard epithet for draft resisters at the time. Salmon had quickly become Denver's most publicized opponent of the war. On January 7, he sent a telegram to the National Civil Liberties Union in New York City explaining his refusal to comply with the draft law and asking for assistance. Three days later came the reply: "Supreme Court has held conscription constitutional. No use fighting." He fought anyway.
Salmon's trial was held on March 30, 1918. His attorneys argued that the Army Questionnaire was unconstitutional because it violated their client's First Amendment right to free exercise of religion. The argument was to no avail. He was convicted and sentenced to nine months in the Denver County Jail. He appealed and was released again on $2500 bond, paid by a friend. On May 16, 1918, Salmon received a draft notice out of the blue, requiring him to report for training three days later. He protested, claiming that his case was being adjudicated in the courts and that he had a dependent wife and mother. The Draft Board conceded that the situation was fraught with "irregularities," but insisted that he must report on May 20. Salmon refused, and sent a messenger to inform the draft board of his decision. That afternoon, he was arrested by the Denver municipal police. With no opportunity to consult with his attorneys, he was immediately turned over to military authorities and placed in solitary confinement at Fort Logan, Colorado.
Prison and Court-Martial
On the morning of May 21, 1918, Salmon was roused out of his cell and dragged before the post commander. The commander demanded that Salmon join the work crew on the base. Salmon refused, insisting that he was not a soldier. He was put back into the guardhouse and all his belongings were taken. That evening, as Salmon was brought into the mess hall, the new recruits chanted, "Get a rope! Get a rope!" One of the guards handed him a copy of a newspaper in which new inductees were quoted as saying that if he ever appeared in Denver again, they would "tie Salmon by the neck to the next train to Fort Logan." The next day, Salmon was put on a military train to Camp Funston, Kansas. After about two weeks there, he was informed that he would be tried by court-martial for "desertion and propaganda." Salmon protested that he had never actually been inducted, but his argument fell on deaf ears. On June 12, he was transported to Camp Pawnee, Kansas, where he was placed in detention for three weeks. From there, on July 2, he was transferred to Camp Dodge, Iowa, where he appeared before a Review Board assigned to hear the claims of all conscientious objectors in federal custody. The Board found him sincere and offered him a farm furlough and commutation of his sentence in Denver, if he would cooperate with military authorities. Encouraged by the ruling, Salmon nevertheless refused to cooperate with the military in any way.
On July 24, at Camp Dodge, Salmon was court-martialed. With no legal counsel available, Salmon presented his own defense by arguing (1) that he had been inducted illegally, (2) that he was responsible for a dependent wife and mother, and (3) that conscription violated the First and Fifth Amendments of the Constitution. The court listened and then, without taking a recess, found him guilty of desertion and propaganda: "desertion," for refusing to report for training, and "propaganda," for distributing his June 5 letter to President Wilson to some Hutterite Brethren also being held at the camp. He was sentenced to death, but then, without explanation, the sentence was commuted to twenty-five years of hard labor at Fort Leavenworth, Kansas.
However, in late August, Salmon was offered a position as first-class sergeant and legal clerk at Camp Dodge. If he accepted, he was told, his twenty-five year sentence would be reversed. When he received this offer, he wrote to his wife telling her the news. On September 6, she replied, telling him that she had given birth to their first son, Charles. She closed her letter by pleading with him to accept the offer. Needless to say, her news and her plea sent him into deep conflict. After weeks of inner turmoil, he decided not to accept the military's offer, on the grounds that such non-combatant service would entail cooperating with an institution that was "antithetical to Christianity." Soon, he was transferred to a fifth place of federal incarceration, Fort Leavenworth, to begin his sentence of twenty-five years at hard labor. He arrived at Leavenworth on October 9, 1918, his first wedding anniversary. Just over a month later, on November 11, Armistice was declared and the war in Europe was over. But Ben Salmon's prison sentence was just beginning.
More Refusals, Hardships
At Leavenworth, Salmon was placed in the post guardhouse with several hundred conscientious objectors. Initially, he worked in the prison commissary. But after several weeks of reflection, he determined that he would not continue working, so as not, as he later put it, "to aid the killing machine." For refusing to work, and for organizing a protest of the misappropriation of funds that he discovered while working on the kitchen financial records, he was placed in the solitary confinement cellblock, dubbed by prisoners as "the Hole." This was on December 13, 1918.
"The Hole" consisted of several rows of small, five-by-nine-foot cells located over the prison sewer system. The cells were damp and dark. Many lacked a bed or blankets. There were no toilets, only openings located at one end of the cell floor. The diet was restricted to bread and water. At night, the prisoners were visited by bedbugs and rats. The stench from the flow of sewage was constant. Salmon suffered physically. He suffered emotionally too, for in January of 1919, he learned of the death of his brother Joe a month or so before. While Joe had been traveling to visit Ben in Leavenworth, he got caught in a blizzard and contracted pneumonia. Ben spent more than five months in The Hole, until April 29, when he and the other "absolutists," as the total resisters were called, were moved into regular cellblocks.
On June 23, 1919, the Fort Leavenworth absolutists were handcuffed, loaded on to a military train, and sent to Fort Douglas, Utah. The fort consisted of ten acres of long, wooden barracks surrounded by seven-foot-high barbed-wire fences, with towers at four corners and guards manning the towers with loaded machine guns. In mid- August, these 142 remaining absolutists were ordered to work. Only a handful complied. The rest were placed in solitary confinement with a bread-and-water diet for two weeks. Salmon was among them, for which his sentence was extended another eighteen months. Conditions at Fort Douglas were harsh: "starvation, beatings, cold baths in zero weather, bayoneting, were the order of the day," Salmon later recalled, belittling them as "petty persecutions." In October, he wrote "An Open Letter to President Wilson," detailing the mistreatment of conscientious objectors in prison and calling on Wilson to release the objectors still being held, now almost a year after the end of the war (see pages 16-17). In early December, a request for clemency was submitted to the War Department by John Salmon on behalf of his younger brother, Ben. The request was refused. Salmon spent another Christmas in prison.
Hunger Strike
In the early months of 1920, Salmon spent much of his time writing letters. He wrote one to the Secretary of the War Department denouncing his incarceration. He wrote another to an attorney in Washington, D.C., seeking assistance in applying for a writ of habeas corpus. He wrote yet another to the American Civil Liberties Union (ACLU) in New York, telling them of his refusal to work and his failed legal efforts up to that point—and of his plans to refuse preparing and eating food, as he saw even these acts as forms of tacit cooperation with the military system he abhorred.
Salmon began his hunger strike on July 13, 1920. Four days later, he wrote a letter to the Secretary of War, Newton D. Baker, among others, stating, "I have missed my meals for four days, and I will continue to starve until released by a discharge from prison or by death." He went on to insist, "I am not demented, but I tell you that unless you relieve me of the assistance that my imprisonment gives to militarism, you will thereby cause my death from starvation, for I cannot honestly continue to support Mars [the Roman god of war] as I have in the past, since I now fully realize that even the tiny bit of assistance that I was rendering in the way of accepting your food, was too much." He contended that "Christ's doctrine to overcome evil with good" stands as "the most effective solution for individual and societary ills that has ever been formulated. It is a practical policy, because Christ is God, and God is the supreme personification of practicality." After stoutly decrying the way he and other conscientious objectors were being treated by the military, he declared, "My life, my family, everything is now in the hands of God. His will be done."
The hunger strike continued as the days turned into weeks and the weeks turned into months. On July 18, Salmon received a letter from his mother pleading with him to eat. On July 23, Salmon, believing that he was near death, sent for a priest, but the priest refused to hear his confession, or give him communion, or anoint him, claiming that his refusal was suicidal and thus a mortal sin in the eyes of God and the Church. Salmon responded that his refusal was no different than that of the Irish hunger strikers in British jails, but the priest demurred. The next day, two priests came from Salt Lake City to hear his confession and give him communion. One disagreed with him nevertheless and said so. The other supported him, and was transferred to Oregon after his sympathies became known. On July 25, Salmon was transferred to the infirmary and force-fed. On July 28, he was taken to Ogden, Utah. And on July 31, he was transferred once again, this time to Washington, D.C., and was placed in a wing of St. Elizabeth's Catholic Hospital for the Insane.
Hospitalized and Released
By the time Salmon was taken to Washington, his case had been taken on by the ACLU, which sent protest appeals to the War Department and contacted the press. On August 4 and 5, a story on Salmon appeared in The New York Times, and, in the weeks to follow, it gained national attention. The ACLU contacted prominent churchmen, including Monsignor John Ryan of Catholic University, who agreed to see what he could do. On October 2, his health deteriorating, Salmon was presented with an application for a writ of habeas corpus. On October 19, his case was argued in the District of Columbia Superior Court, but on October 27, the application for the writ was turned down. He resolved to take his case to the Supreme Court. At this point, Salmon's cause was championed by several papers and groups, including, remarkably, some of the members of the Knights of Columbus chapter that had had him expelled. On November 13, Salmon was moved from St. Elizabeth's to Walter Reed Government Hospital, where his mail was censored, his visitors were barred, and he was not allowed to use the phone to contact his attorneys. Letters continued to pour into the War Department, and in mid-November, Monsignor Ryan spoke directly with the Secretary of War. On November 24, the situation was resolved. The War Department granted pardons to thirty-three conscientious objectors remaining in federal custody. On November 26, the day after Thanksgiving, Salmon gathered his belongings, signed his release papers, was handed a Dishonorable Discharge from the Army, and walked out of Walter Reed Hospital a free man.
The Aftermath
When Ben Salmon was released in late November of 1920, his story was featured in almost every major newspaper in the country. It was a remarkable story indeed: from the time he had taken his initial stand in June of 1917, Salmon had been arrested, tried, and convicted in a civilian court; he had been convicted by a military court as well, even though he had never been properly inducted into the military, he had been sent to military prison, where he had endured serious hardships for refusing to cooperate with his imprisonment, including extended periods of solitary confinement; all of this culminated in a hunger strike that dragged on, due to a regime of forced feeding, for 135 days. It was the hunger strike, and the adverse publicity it brought for the War Department, that led to Salmon's eventual release. Not that all the publicity was in favor of Salmon; to the contrary, several veterans groups, particularly those located in his hometown, promised retaliation against "Denver's notorious slacker," as he was often called in the press. The threat of further hostility kept Salmon away from Denver. Moreover, his relationship with his wife was strained, owing apparently to his decision years before not to accept the military's offer of release in return for taking on non-combatant duties. At any rate, Salmon decided to move to Chicago, where his older sister Mary lived, and to go to work for the American Freedom Foundation, which was affiliated with the ACLU. Sometime the following year, in 1922, his wife Elizabeth, and their son Charles, joined him in Melrose Park, Illinois. The next year, their second child, Margaret, was born, and a couple of years after that, they had their third child, Geraldine. By this time, Salmon went to work at the Lindbergh Airport in Chicago—not a great job, but the best he could do with a Dishonorable Discharge form the Army. When the Great Depression hit in 1929, the Salmon family's economic difficulties worsened. Late in the year 1931, Ben contracted pneumonia, and, like his brother Joe, never recovered. He stayed at home. On February 15, 1932, attended by his wife and three children, Ben Salmon died.
A Faithful Catholic
Ben Salmon was a faithful Catholic. He was baptized as an infant and he grew up fortified by the Sacraments. As a youth, he was placed in Catholic schools. As a young man, he joined the Knights of Columbus in his home parish (until he was expelled for war resistance). When he wrote to President Wilson to announce that he would be resisting military conscription, he cited the commandment "thou shalt not kill," and the teaching and example of Jesus. At his arrest, trial, and conviction, he defended his stand by referring to his duty to keep the commandments and to follow the teachings of Christ. In military prison, he understood his sufferings to be a share in the sufferings of Christ. He received priest-chaplains who visited him in prison, even if they were there only to try to talk him out of his war resistance. He was released from federal custody at the urging of Church leaders. For the remainder of his life, he prayed his daily prayers, stayed close to the Sacraments, and kept the Lenten fast each year, including a three-day fast at the Easter Triduum. His children were educated in Catholic schools. Finally, he was buried in the Church after a Mass for the Dead. His wife, for her part, remained a faithful Catholic until her death, as did the Salmon children, one of whom, Charles, became a priest in Denver, while another, Geraldine, became a Maryknoll sister, taking for her religious name Elizabeth (in memory of her mother). Again, he was a faithful Catholic.
For Salmon, being a faithful Catholic meant allowing the Light of Christ to guide every aspect of his life, particularly, of course, when it came to the command of Christ to love our enemies and to conquer evil with good. And this meant challenging the teaching of the Church when it came to the morality of war. What is remarkable about Salmon is that he investigated and challenged Church teaching so thoroughly and conscientiously, with such intellectual honesty and seriousness. These qualities marked Salmon's thinking and acting throughout his ordeal, but nowhere were they so clearly demonstrated as in the 200-page statement (single spaced) that he wrote while held at the insane asylum at St. Elizabeth's Hospital in Washington, D.C. in October of 1920.
The purpose of Salmon's statement was to give an account of his ordeal since he had declared his resistance to the war more than three years before. He opens with a review of his original stand, his arrest, trial, and conviction, his subsequent incarceration, his refusal to cooperate with military authorities, and his encounters with the priest-chaplains who tried to dissuade him from his course. Then he launches into a lengthy intellectual defense of his conscientious objection to the war, based on political, humanitarian, and religious grounds. Regarding the political and humanitarian grounds, he was rehearsing from memory many of the arguments he had developed before his incarceration. But when it came to the religious arguments against the war, Salmon was able to work directly with several texts. He obviously had access to scripture, for his statement includes direct quotations from Daniel, Matthew, and Romans. But he was also able (with the help of one of his guards at the hospital and two secretaries of the Knights of Columbus) to gain access to the article, "War," from The Catholic Encyclopedia. Written by a Father Macksey, S.J., Professor of Ethics and Natural Right at the Gregorian University in Rome, the article presents the standard Catholic teaching on the morality of war. Salmon quoted the article at great length (more than nine, single-spaced pages worth, meticulously numbering the lines—496 lines in all), and then methodically, yet tortuously, rebutted every important tenet of Macksey's article, an exercise that took scores of pages of single-spaced typescript.
Salmon's rebuttals are too detailed to go into at length, but his central claim is that just war theorists do not take seriously the teaching of Christ. "Man is anterior to the state," he wrote at one point. And "since God has forbidden him to kill, the State cannot confer the right to kill, and therefore the power to order its citizens to slaughter their fellow men is not vested with the State. God alone can issue such an order. Either Christ is a liar or war is never necessary, and very properly assuming that Christ told the truth, it follows that the State is without (and here he quotes from Father Macksey) 'judicial authority to determine when war is necessary,' because it is never necessary."
While his argument might be contested by just-war theorists, it is based on two uncontested Catholic premises: that Christ taught us not to kill, and that the state has no right and thus no power to issue a command to the contrary of Christ's teachings.
To state this argument in positive terms, Christ has provided us with all the means necessary to overcome evil. We are, in the words of St. Paul, to "overcome evil with good" (Rom. 12:21). And Salmon went on to explain the "philosophy" entailed in Paul's teaching in a passage that is worth quoting at length:
"In ordinary affairs of life, we apply this philosophy. For instance, we do not attempt to overcome lying with lies; we overcome it with truth. We do not try to overcome curses with curses, but we overcome with silence or with words of friendship. . . . Sickness is not overcome with sickness; it is overcome with health. If I cut my finger, the remedy is not to cut another finger, but to succor the original wound. Anger is overcome with meekness, pride by humility. And the successful way to overcome the evil of war is by the good of peace, a steadfast refusal to 'render evil for evil.'"
This is the argument of a man out of step with his times, at odds with a nation at war, and at odds with his Church's support of that war. But it is at the same time, unquestionably, the argument of a faithful Catholic.

Ben Salmon, Confessor
?But this argument is more than the argument of a faithful Catholic. It is also the argument of a "confessor." This term is often associated with the persecution of the Church in ancient times, as a way to designate, not only those who had actually died for the Faith—martyrs, in other words—but also those willing to die for the Faith whose sentences were not carried out and who then underwent great suffering for their witness—the seizure of property, imprisonment, exile. With this understanding, Salmon surely qualifies as a confessor. Originally sentenced to death, his sentence was commuted to twenty-five years in prison, two and a half years of which he served before being released—all due to his unswerving commitment to Christ.
We believe it is important to tell the story of Ben Salmon for the same reason the stories of confessors of ages past are told by the Church: to serve as an inspiration for Christians in this day and age, to embolden those now seeking to follow Christ, to point out a path that may be taken.
In introducing Unsung Hero of the Great War, Finney describes Ben Salmon as "a vivid character in the drama of 'the war to end all wars.'" Needless to say, the drama of wars waged to end war continues. As Salmon wrote in his statement of October 1920, "Today, we find the scene that preceded Christ's death reenacted. When He began to become unpopular, His prophecy that all would be scandalized came true. One denied Him, another betrayed Him, nearly all of the disciples fled. And so it is today in the question of wholesale murder." In light of Cardinal Gibbons' letter to President Wilson pledging Catholic support for the war effort, Salmon's critique was not unfounded.
Nor, regrettably, is it unfounded today, when Catholic prelates and lay people cast their support for this nation at war. But along with Salmon's stinging critique comes his encouraging example, showing us that we are not fated to reenact the roles of Peter, Judas, Pilate or Caiaphas, disclosing the possibility that we ourselves can follow the way of the cross, and become, like Ben Salmon, confessors of the Faith.
Return to Spring 2007 Contents