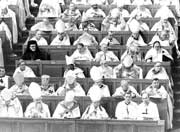 War and Conscience After Vatican II
First in a Two-Part Series
by Tom Cornell
Until the final session of the Second Vatican Council, the miniscule, almost invisible Catholic peace movement faced a daunting, if not intractable, problem: the question of conscientious objection. Before the Council, almost any priest, bishop, or theologian, asked whether a good Catholic could be a conscientious objector, would have answered no. If pressed about the fact that there were in fact Catholic conscientious objectors, they would say: "These men are mistaken, in good conscience it may be presumed, but not right conscience. Catholics may not be conscientious objectors except by reason of invincible ignorance. As such they may be tolerated."

The road to change on this matter of doctrine, while not easy, was certainly fascinating. Catholic laity, from a French village to a small office in New York City, were instrumental in that transformation. Here is part of that story, which became my story as well…

Jean Goss came from a bourgeois family in France that had fallen into poverty. His father was an anarchist, his mother Catholic. Goss worked in a factory from the age of 13, where he discovered labor unions as a vigorous instrument for defending the rights of the workers. This was the first step towards practicing nonviolence.

His career goal on the French railways was interrupted by World War II. "I was a good soldier," he would later boom in a robust oratorical style that made people think he might be a preacher or a laicized priest. "I killed many men, I don't know how many, and I got medals for bravery."

Then, during a terrible slaughter of French troops while he was defending their retreat to Dunkirk, France, Goss had a mystical experience of which his wife, Hildegard Goss-Mayr, writes, "God revealed to him the only true alternative to violence: absolute, self-giving love."
Later Goss was captured by the German army and imprisoned in a POW camp, where he underwent a conversion. "The old Jean Goss was gone. I don't know where he went. I couldn't hate any more, not even the guards, not even the Nazis." After the war, Goss attached himself to a group of worker priests in an industrial section of Paris. He went to work for the French railway system and soon rose to leadership in his union. But his heart burned to work for peace and the abolition of war—war he knew in the concrete, not war in the abstract, which moral theologians write about. He wanted the Catholic Church to rediscover the nonviolence of Jesus.

Cardinal Alfredo Ottaviani came to understand the realities of war also, as he toured southern Italy after World War II. Southern Italy has always been poor, but poverty turned to destitution after unification of the Italian state in 1869, due to exploitation by the more powerful North. Ottaviani saw the ruin brought upon already impoverished, innocent, and uncomprehending people by the war, and came to the conclusion that justice could no longer be served by war because of the massive injustices it generates, and because of who pays for it—always the poor. "Bellum omnino interdicendum," he wrote in a monograph from the Holy Office, "War is to be altogether forbidden."

Goss read it and sensed that this opening from a most unexpected source—Ottaviani was an ultraconservative even by pre-council standards—was too important not to enter. Goss wrote the cardinal asking for an audience. He got no answer. A second and a third letter remained unanswered. So in 1950 he used his union railway pass and took the train to Rome.
Chasing Down a Cardinal
Goss had done a little research. He knew exactly where to find Ottaviani's office. A Swiss Guard stopped him on his way. After a brief "failure in communication," Goss made a dash up a flight of stairs, Swiss Guard in hot pursuit, halberd clattering.
An imposing figure appeared in the doorway of the Holy Office, tall and well-built, with milky eyes. Cardinal Ottaviani asked the cause of the racket. "Bellum omnino interdicendum, your Eminence!" Goss belted out.

The cardinal ushered Goss into his office, and they talked for two hours. Yes, he had written this. Yes, it is of the utmost importance, the greatest urgency, that the resources of the church be aimed at the elimination of the scourge of war. But the church, the cardinal insisted, speaks in this area to governments. Such matters as the justice or injustice of war in general or of a particular war are not to be left to individuals or to voluntary groupings to judge, but to the competent authorities of church and state. Conscientious objection to war or to military service was too foreign an idea for the cardinal.

Ottaviani was among the last defenders of the doctrine that "error has no rights" and of the confessional state as the norm to be strived for. But he was a good and an honest man. He continued his dialogue with Goss, and later with his wife, Hildegard Goss-Mayr.
Goss-Mayr came by her role as a leader in the international peace movement naturally. Her father, Kaspar Mayr, was one of the first Catholics in the leadership of the International Fellowship of Reconciliation, the largest religious pacifist organization in the world. Peace work was for Goss-Mayr a family legacy.

When Pope John XXIII decided to open the windows of the church to the modern world, to hold a council, no one knew what would fly in or out the windows, but what came to be known as the "peace lobby" set itself in motion. When Goss introduced his wife, Hildegard Goss-Mayr, to Ottaviani, he was impressed. She had a doctorate in philosophy and spoke with quiet authority, out of deep faith and iron conviction, but never overstating her case.

The cardinal introduced Jean and Hildegard to bishops and theologians who were hammering out the working document, Schema XIII, which came to be known as Gaudium et spes, the Pastoral Constitution on the Church in the Modern World. In meetings with more than 200 bishops, they urged that the teaching of Pacem in terris, Pope John's 1963 encyclical on peace, be expanded, and that the question of the deterrent be addressed as well as individual responsibility—conscientious objection to war and military service.
| | |
| --- | --- |
|   | Ottaviani saw the ruin brought upon already impoverished, innocent, and uncomprehending people by the war, and came to the conclusion that justice could no longer be served by war because of the massive injustices it generates, and because of who pays for it—always the poor. "Bellum omnino interdicendum... War is to be altogether forbidden." |

In 1965, during the fourth and final session of Vatican II when the council discussed Schema XIII, Goss helped organize an international group of twenty women to come to Rome to fast and pray for the council fathers for ten days. Among them was Dorothy Day. Day did not "lobby," but she brought with her 300 copies of a special edition of the Catholic Worker, edited by Eileen Egan, as a teaching tool for the bishops and theologians at the council, featuring articles by Gordon Zahn, James Douglass, and Howard Everngam.

A special gift had made it possible to airmail every bishop in the world a copy of this issue of the Catholic Worker, but Day brought extras just in case. Barbara and Bernard Wall, of the English Pax Association, joined Egan, Zahn, Douglass, and Richard Carbray as the English-speaking peace lobby.

They found many bishops more than eager to explore ways of expanding the church's peace teaching, among them Melchite Patriarch Maximos IV of Jerusalem, Archbishop George Flahiff of Toronto, and Bishop John Taylor of Stockholm.
A Step Forward
In the end, language recognizing and even praising conscientious objection was incorporated into the text. "It seems right that laws make human provision for the case of those who for reason of conscience refuse to bear arms, provided however that they accept some other form of service to the human community" (Gaudium et spes, 79). Douglass wrote the words pertaining to the unqualified condemnation of the use of weapons of mass destruction: "Any act of war aimed indiscriminately at the destruction of entire cities or of extensive areas along with their population is a crime against God and man himself. It merits unequivocal and unhesitating condemnation" (Gaudium et spes, 80).

Ottaviani, said to have been the least popular bishop among the council fathers, rose to defend Schema XIII and to urge its acceptance against the efforts of some American bishops, led by Cardinal Francis Spellman, to weaken the text. Ottaviani was given the longest and loudest ovation of the council, and Gaudium et spes was accepted resoundingly.

Bishop Taylor thought the contribution of the Catholic Workers to the council so valuable that he gave his Commemorative Medallion, which Pope Paul VI presented to each of the council fathers, to the Catholic Worker. I have it before me now.

So it happened that a leap of faith in the trenches of World War II and a dash up a Vatican staircase hastened a process not yet completed. After a long, bumpy, and tortuous road through accommodation to power, Crusades, and "just wars," the Church now clearly teaches the right of conscientious objection to war and to military service. In 1980 the U.S. Catholic bishops went so far as to pledge the good offices of Catholic institutions to the aid of any and all who were troubled by the military draft.

While these advances in church teaching were taking place at the highest level of the magisterium, something of equal importance was happening from the base. Ordinary Catholic laypeople took a leading role in the anti-Vietnam War movement. Catholics were among the first to demonstrate, to burn their draft cards, and to engage in acts of nonviolent civil disobedience against the war, and they took leadership positions in the broad coalitions that raised the biggest protests in the nation's history.
The Work Begins in Earnest
The Fellowship of Reconciliation (FOR) was and is the largest ecumenical and inter-faith religious pacifist organization in the U.S., comprised of a Baptist Peace Fellowship, an Episcopal Peace Fellowship, a Methodist, a Jewish (and later a Buddhist and a Muslim group). As the 60's began, there were a few Catholic members of FOR, very few, but among them were Thomas Merton, a few lesser known but influential priests, and one generous woman of means.  Alred Hassler, the FOR executive secretary at that time, charged John Heidbrink, director of church work, with the mission:  organize a Catholic Peace Fellowship.  Where to go for such an unenviable task but to the Catholic Worker in New York City, then the only Catholic pacifist group in existence.

 Heidbrink found Jim Forest at the editor's desk of The Catholic Worker, and made the proposal:  gather  a small group of people who might be willing to accept $5,000 seed money to start a CPF.  Jim called me from my teaching job in Connecticut to help him make the pitch to Eileen Egan, Gordon Zahn, Ed Rice (editor of Jubilee and a friend of Merton's) and Howard Everngam (I can't recall the others).  The group declined FOR's offer of seed money—out of fear that the bishops might suspect that we were acting under "a Protestant notion of individual interpretation of Scripture"—and decided they would organize something else, which over the next decades became Pax Christi USA.  Three years passed.  Pope John XXIII published his encyclical Pacem in terris on April 11, 1963.   Suddenly, the state of the question changed.  The FOR saw an opening.  Heidbrink made another approach to Forest. This time it worked! But there remained a question: would our newly formed Catholic Peace Fellowship really get off the ground?

CPF picked up steam in 1965, the year of the final session of Vatican II, out of a cramped two-room office at 5 Beekman Street in Lower Manhattan. Thomas Merton had given us a boost by giving us an essay, "The Root of War is Fear," to publish and circulate. We billed ourselves, on our letterhead, as "an educational agency conducted by Catholic members of the Fellowship of Reconciliation," and looked for something to do.

The fundamental goal was to make the peace message of the Catholic Church available to Catholics and to stimulate a wider peace and pacifist movement. But we realized that a vigorous peace movement was impossible to envision without the idea of personal responsibility, especially in regard to one's own participation in war, i.e. conscientious objection. We knew that those bishops who believed that Catholics had only become conscientious objectors out of ignorance were mistaken. We knew this because we had studied the question carefully, I for several years.

Both Jim and I had been successful in seeking CO status, Jim in the U.S. Navy, I as a civilian, but with minimal help, no real quality counseling. I did not want anyone to feel as bereft as I had felt, even at the New York Catholic Worker, with no counselor to turn to. We wanted to solidify the Catholic CO position, make it easier in the future for Catholics to succeed in CO claims and enrich the peace movement with new recruits. As the Vietnam War heated up, we knew we had something to do: counsel Catholic COs. [ed. note: stories of counseling will be featured in Part II of this essay.]
| | |
| --- | --- |
|   | The fundamental goal was to make the peace message of the Catholic Church available to Catholics and to stimulate a wider peace and pacifist movement. |
Jim wrote a pamphlet, "Catholics and Conscientious Objection," which laid out the case. We applied for an imprimatur from Cardinal Spellman, and we got it. By the time it was revised to meet changing times, there were a quarter of a million printed. It laid out the whole tradition, beginning with the early Church's rejection of war.

The pamphlet included stories from Scripture and the lives of the saints. It even drew on the witness of the Catholic Worker movement, stressing that "if doing these works of mercy is a matter of salvation," then "surely we are forbidden to do the very opposite, as war requires, to cause hunger and thirst, to destroy homes and create refugees, to leave many sick and dying..."

The updated version addressed the nuclear question as well, and included the great quote from the Jesuit Richard McSorley:
The taproot of violence in our society today is our intent to use nuclear weapons. Once we have agreed to that, all other evil is minor in comparison. Until we squarely face the question of our consent to use nuclear weapons, any hope of large scale improve ment of public morality is doomed to failure.
The pamphlet is still useful, and CPF is planning to do a revision soon.
At the Service of the Church
Over the years, demonstrations and other peace movement business brought me to Washington, D.C. every so often. If at all possible, around lunchtime I would drop in at the bishops' headquarters and pay a courtesy call. Tom Quigley, a CPF member on whom I could always call, was a layman in charge of programs for Latin America for the bishops. Fr. Bryan Hehir was always ready to share lunch. We got to know each other. So it was that Fr. Hehir called upon me when President Carter reinstituted registration for the draft, which had been suspended at the end of the Vietnam war. Most of us expected resumption of the draft itself. So the bishops asked CPF how we thought the Church should respond. I suggested that the bishops restate their support of SCO and that they offer the institutions of the Church to the counseling of anyone with any kind of problem relating to military serve and the draft. To my astonishment, they did, in a statement of the Administrative Committee of the U.S.C.C., in 1980.

As soon as the words were in black and white, I asked Fr. Hehir, "How do you mean to implement this? Do you have anyone here who is qualified to train draft counselors?" Bryan laughed. He knew I was out of a paying job at that time. "We don't have the funds to hire you, Tom!" he said. I asked him to write a letter to be sent to all the bishops recommending the CPF draft counselor training program for their schools and social work agencies. He said I should write it myself. I did. Bishop Rausch signed it. The next year I spent taking the program across country, and the principles were established which inspires the work of CPF even to this day: education and counseling.

Some peace people have objected to our emphasis on conscientious objection. CO by itself will not make war impossible, they argue. War will not end because men and women refuse to fight. Enough cannon-fodder will always be summoned. War will end when war is no longer possible, when an international fabric of law and institutions is created strong enough to preclude it. But that is not likely to happen unless the moral energy is generated to hasten historical processes.

The problem is fundamentally spiritual. "Some hope in horses and chariots. We call upon the name of the Lord," sang the Psalmist. And there is hope in the small bands of men and women who place principle above expediency and struggle above comfort. We work that they may grow, not perhaps to anything like a majority, but large enough to make a difference, "a mighty league of conscientious objectors."
Tom Cornell is the co-founder, with Jim Forest, of The Catholic Peace Fellowship. He now lives at Peter Maurin farm in Marlboro, NY. This reflection expands on an essay in the September, 1996 issue of Salt of the Earth magazine.