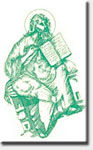 January 28
St. Isaac of Nineveh

Taken from The Sign of Peace, VOL 2.1
by Kyle Smith
St. Isaac of Nineveh, a 7th century ascetic, was from the town of Bet Qatraye on the Persian Gulf. In 660 AD Isaac was ordained bishop of Nineveh, an ancient city on the Tigris River in present-day Iraq. But Isaac preferred the contemplative life of a hermit to the ecclesiastical life of a bishop, so he left his see "for a reason known to God" after only five months. From Nineveh, Isaac withdrew to the monastery of Rabban Shabur in Iran where he died at an old age.
Isaac was a monk, a teacher, and a renowned scriptural scholar who, so it is said, studied Scripture so much that it eventually made him blind. Although he was a tremendous exegete, it is Isaac's discourses on the ascetical life for which he is remembered.
Reworking the teachings of Origen of Alexandria (d. 253) and Evagrius of Pontus (d. 399), Isaac puts forth a threefold way to God: the way of the body, the way of the soul, and the way of the spirit. In the first stage, Isaac prescribes fasting, vigils, and psalmody so that one may master the fleshly desires that lead us away from God. Once one has achieved a certain self-mastery, one is able to turn away from created things so to focus solely on the contemplation of God's wisdom. This second stage leads on to a total openness of the soul from which one may enter the third and final stage: continual prayer and an acute understanding of the immortal life given to us through Christ's salvific death and resurrection.
The constant refrain throughout Isaac's ascetical discourses is his firm insistence on the necessity of mercy and forgiveness. Isaac so insists on mercy that, like Origen and St. Gregory of Nyssa (d. 386), he speculates on the possibility of universal salvation— even for demons. For Isaac, being merciful means offering "tearful prayers even for the enemies of truth." Isaac recognizes that this level of forgiveness requires much strength, but he challenges us nevertheless: "When you meet your neighbor, force yourself to honor him beyond his measure. Kiss his hand and his foot and piously warm your heart with great love for him ... by these things not only will you constrain him to desire beautiful things ... but also you will establish in yourself peaceful and humble habits."
To forgive with such abundant mercy, one must understand, says Isaac, that "no one can know the Truth without gaining experience of suffering." For Isaac, "unless the soul tastes suffering for the sake of Christ, it will not share in knowledge with Him." And in order to taste suffering, Isaac counseled poverty, saying "nothing gives peace to the mind as much as voluntary poverty: fire does not blaze among fresh wood, and enthusiasm for God does not break forth into flames in a heart that loves comfort." Isaac demanded a lot of himself and his fellow Christians, but he also indicates that the tears brought by suffering are a "gift" that serve "as a manifest sign of the perception of truth" in the heart of a Christian.
Fr. Daniel Berrigan says, "Being a pacifist between wars is like being a vegetarian between meals. This is exactly where the Gospel gets verified or denied." In the same way, Isaac implores us that it is precisely in times of persecution and injustice that we are most called to encounter Christ and, indeed, to suffer with Him.
St. Isaac of Nineveh's memory is celebrated by the Church on January 28.
VISIT OUR SAINT ARCHIVE