About CPF
Printable Version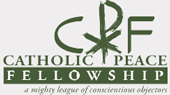 The purpose of the CPF is to support Catholic conscientious objectors through education, counseling, and advocacy. Guided by a personalist philosophy, the CPF seeks to resist war by helping those who choose not to participate in it, one person at a time.



About Our Logo

Histories


"War and Conscience After Vatican II," by Tom Cornell


Support CPF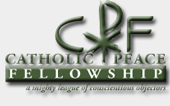 Help raise a mighty league of conscientious objectors! Our resources are few, but with your help, CPF can keep reaching out to soldiers and students, sharing the Church's tradition of peace. And just think how much is being spent to "share" the tradition of war... A LOT.
CPF Facebook Page
"We Go On Record"
Our online community of conscience: post and read statements of conscientious objection. (Temporarily down and Under Construction)
Church Teaching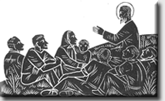 For two thousand years, the Church has confronted issues of war and peace. What has it said, and what about now?
The Sign of Peace

The Sign of Peace journal brings a theological and scholarly look to matters of war and peace.
The CPF currently has three new issues of The Sign of Peace in the works. Please give today to help bring these issues to press! We are working to have a new issue out before the conclusion of 2012.
The Spring 2010 issue was on "Mennonites, Catholics, and the Peace of Christ"
Click here for subscription information.